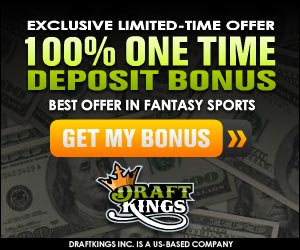 Daily fantasy basketball has kicked my butt over last couple of days. Specifically, the injuries that happened during the game or the very late scratches. Hope all the players mentioned get well soon. My daily fantasy basketball lineup took major hits when Los Angeles Lakers' Jodie Meeks went down with an injury few days ago. Yesterday, the injury bug wreaked havoc on my daily fantasy basketball lineup.
Kevin Love is one of the elite fantasy basketball player you can have on your squad. Well, he was a player I picked up of course. I went through my normal checks right up until game time to ensure the players were not going to be on the injured list. I did not see any information that led me to believe Love would be out of the game. Just my luck as soon as the deadline passed to switch out players, Love is confirmed out with a neck injury. Therefore, on DraftKings, Love is capable of scoring over 50 fantasy points and those are whole heap of points to be missed when you are shooting for your team to score at least 300 fantasy points. 300 fantasy points usually translates into a good night. You could Win a piece of $50,000 playing fantasy basketball. Pick your winning team today!
I am new to the daily fantasy sports, but I have read what happened with me regarding late injuries to players, it happens. A great place that I found with good injury information as many of you already probably already know, is via twitter. I follow Rotoworld Basketball on Twitter, and they provide great up to date injury information.
Last night, I had an a decent fantasy lineup, but a back injury to San Antonio Spurs' Tony Parker was costly for my fantasy team. He did not play any the second half. I mean finished like 8th in 30 head to head match on DraftKings. I scored 286, but I would have easily managed to move up at least three spots with Parker playing the entire game.
Injuries will happen, you definitely cannot do much about the injuries that occur during the game. Hey do yourself a favor, you have to check and keep checking injury reports to give yourself a chance to have great team for that night. For an avid basketball fan, you will definitely enjoy daily fantasy basketball. It will also help you find out more about some of the players that does not get as much press as the regular NBA Superstars.